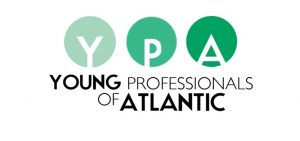 Nearly a dozen young professionals in Atlantic were recognized Wednesday for their achievements and commitment to excellence in their profession and/or community. The eleven individuals received their awards during the Inaugural Young Professionals of Atlantic (YPA) Dessert and Luncheon held at the Atlantic Golf and Country Club.
The YPA is comprised of a group of persons ages 21-to-40, whose mission is to "Connect, engage, and attract young leaders into the Atlantic Community while promoting Atlantic and the surrounding area." The organization has been established in Atlantic for several years.
YPA Vice-President Lucas Mosier said the young professionals who received awards Wednesday had been nominated in 11 different categories including: education, food/drink/hospitality, health, non-profit/government, professional services, retail/sales, technology, skilled labor/trade, Agriculture, and start-up entrepreneurs.
The 2014 Young Professional Choice Workplace Award was presented to the Cambridge Law Firm. The award recognizes a company that effectively attracts, retains and develops young professionals.
"I speak for myself and some of the old timers in the room. We are very impressed with the pro-active approach being put forth by the Young Professionals of Atlantic. It bodes well for the future of Atlantic," Dave Chase of Cambridge Law Firm said.
"Young Professionals love Cambridge Law Firm, P.L.C.  It is evident based on the average age of the attorneys," Wieser, said.